We are a Law Firm that provides personalized service, efficient and effective results that come from taking a client centered approach to practicing law. It is my goal to work alongside my client throughout the process to keep them informed and enlightened about the often daunting legal process. I find this level of transparency decreases client stress at a point in their lives when they are often at their peak. Gaining not only my clients respect but confidence makes for lifelong relationships between client and counsel.
In this ever progressive technological era, where mobility is often an issue, Bryant Law takes their firm on the road when needed. We can meet at a geographically convenient location for the client and have the means and apps at hand to access and maintain the clients confidences.
I look forward to the opportunity to help you now and in the future.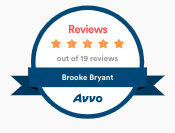 Check out what my clients are saying about me.